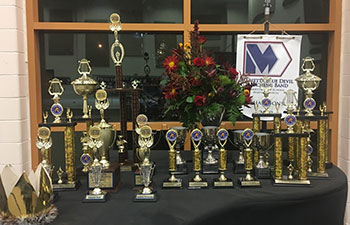 Congratulations to the Marietta Marching Band and their award winning competition show entitled "MAX" The band, drum majors, guard, and percussion earned straight superior ratings at all three competitions and place consistently within the top three places of their class and division.
Most notably the Colorguard and Drum Majors won the Grand Champion Awards for the Magnus Division of the 4th Annual Lion's Den Invitational at St. Pius X High School & The Band won the Grand Champion Award of the Silver Division of the Old South Marching Competition at Newnan High School.
Congratulations to our Marietta marchers! Through your dedication, commitment, and hard work you have made this year one to remember!
A big thank you to all our band parents, volunteers, and school administration for your continued support and dedication. From chaperoning, working concessions, designing props, and hustling in the pit crew, to all the work behind the scenes your time and talent make it possible for us to be the best that we can be. Thank you!